2012 Bowman Baseball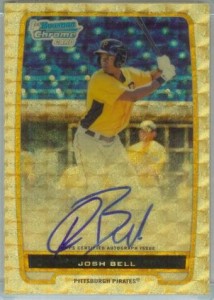 This 2012 Bowman Superfractor List will be the most exhaustive list ever.  We are tracking it from day one.  Hell, it is already updated with the first superfractor pulled.  🙂
I will personally be opening over 18 cases of 2012 Bowman – so I expect to increase this list myself this week.
Well, two days before release and one of the biggest Superfractor autos from the set has already been pulled… in Taiwan.  The Josh Bell superfractor auto is already for sale on eBay.
Please help us keep this list accurate by posting whatever new superfractors you find – either your own pulls or on eBay and the many forums.
Ooosh and I sincerely thank you for your contributions to this site and each individual pulled superfractor list!
We are all on the lookout for the main superfractors from this set:  Yu Darvish, Anthony Rendon, Gerrit Colen, Danny Hultzen, Xander Bogaerts, Oscar Taveras, etc.