2011 Topps Finest Baseball
2011 Topps Finest is always a nice set.  It never really gets the same attention as the other chrome sets, but it has a nice following.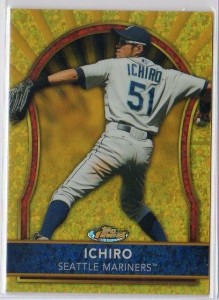 I ran a group break of 2011 Topps Finest Baseball on release and pulled the Ichiro Canary 1/1.  When I mentioned this to Ooosh, she said (and I quote), "Well look at you."  Yes, apparently I am a pretty big deal around here.  🙂
2011 Topps Finest has two types of true refractor 1/1 cards:  superfractors and canaries.  There are also printing plates and autographed plates.  One of the cooler aspects of 2011 Topps Finest baseball is that the insert sets often have superfractor versions as well.
Ooosh has once again done an amazing job tallying all the superfractors, canaries, and printing plates!
Please post any updates from your own collection or new pulls in the comments and we will make the changes asap.  Thanks again!